AnythingOUT Stain Removal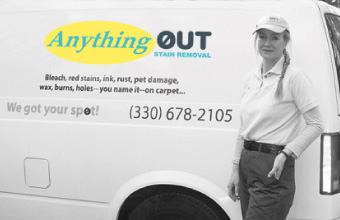 AnythingOUT Stain Removal is certified by the IICRC (Institute of Inspection Cleaning and Restoration Certification). We are experts in stain removal, color repair, carpet repair, fine fabric and rug restorations. See Examples. There is no stain that we cannot get out of carpet — period. We are very successful on furniture too. We got your spot!

Stain Removal Experts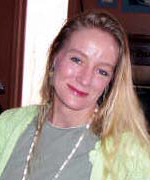 President of AnythingOUT Stain Removal and currently the active and overseeing technician, Eve Baird — fondly known to her loyal customers as "the carpet lady" — started out in the carpet cleaning industry in 1984 and bought her own carpet cleaning company in 1986. With over 30 years of business experience (most of it as owner/operator) Eve has been specializing exclusively in Stain Removal since 2000.
A master at restoring hopelessly stained carpets, Eve has achieved IICRC certifications in the following areas:
Carpet Cleaning Technician
Upholstery and Fabric Cleaning Technician
Water Damage Restoration Technician
Odor Control Technician
Color Repair Technician
Carpet Repair and Reinstallation Technician
In 1992 she achieved and currently maintains the status of: Master Textile Cleaner. AnythingOUT Stain Removal is certified by the IICRC.
Stain Removal Questions?
Please see our FAQs and Examples.
Contact Us
Please Contact Us if you have any questions or would like an estimate.